Planning and Scheduling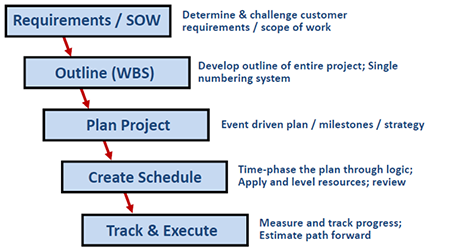 Humphreys & Associates' experienced consultants provide direct support to client programs in the areas of schedule development and maintenance, as well as advisory and mentoring services to existing integrated program scheduling staff.
H&A can provide the following consulting support to your company in the areas of scheduling processes and procedures schedule health and risk assessment, subcontractor schedule data and tool integration, and EV compliance.
In addition, H&A has dedicated consultants that specialize in helping contractors set up projects during both the proposal and post-award phases.
Direct project support includes the following:
Scheduling in an EVM environment
Setting up the project

Work Breakdown Structure development, review, streamline
Identify key project control points for management visibility

Subcontractor data integration

Review and assessment of subcontractor schedules
Integration process
Incorporation EV data from subcontractor with EV flow down requirements
Maintaining EV compliance

Project schedule quality and health assessments
Schedule Acceleration
Baseline Change maintenance and management
Reprogramming
Government Compliance
Cost/Schedule integration
Trend Analysis
Monthly Business Rhythm development and optimization

Statusing process & cycle
Performance assessment
Forecasting & ETC/EAC development
Advisory services
Training

Scheduling Best Practices
Managing Schedule Risk
Scheduling Tools

Requirements assessments (gap analysis)
Mock reviews/audits
Project turnaround analysis
EV compliance

IPMR/CPR submittals
Processes and procedures
Team assessments
Scheduling Consultation
H&A will provide scheduling consultation support to your company with regards to enhancements required of the scheduling process, tools and architecture, in alignment with scheduling best practice industry standards Planning & Scheduling Excellence Guide (PASEG), and the Generally Accepted Scheduling Principles (GASP). Additional consideration and direction specific to EVMS compliance will be provided where applicable.
Improvement recommendations will be provided to the Project Controls team or Project Management Office, including the Baseline Management and Scheduling organization.
Specific examples of support to be provided will include:
Deliverable Support – Support development and submittal of a compliant IPMR Format 6 and Format 5 (IMS Discussion)
Assist the program management team with defining and conducting a monthly IMS Analysis Briefing (prior to monthly CDRL deliverables).
Subcontractor Flow down of scheduling requirements
Scheduling Health Assessment Support - Support and contribute to the development of an EVMS schedule surveillance.
EAC analysis and turnaround direction
Provide training to the project personnel identified as needing more formal training.
---