Step 3: Humphreys & Associates EVMS Design and Documentation
Whether you are designing a new EVMS or modifying an existing EVMS, Humphreys & Associates can help. We will work with you to develop or enhance your current processes and procedures to reflect the latest government requirements and to be compliant with the 32 guidelines in the EIA-748 Standard for Earned Value Management Systems. H&A's EVMS experts can help you design a fully integrated EVMS streamlined and tailored to your business environment.
An Overview of EVMS Design and Documentation
A complete set of EVMS documentation typically includes the corporate EVM policy, the EVM System Description, related procedures, storyboard, desktop instructions, and sometimes role-based handbooks. This is illustrated below. Which documents you need to create or enhance is dependent on what you already have in place as well as your business requirements.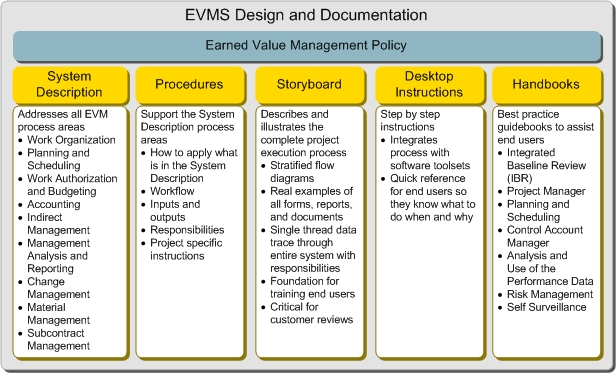 A Requirements Analysis can provide the basis for determining the amount of effort required to design the overall system and produce the required documents. The goal is to create a fully integrated project control system that is used on a day-to-day basis to manage project work effort from the proposal stage through final product delivery. The design and documentation of an EVMS is an iterative process that involves constantly testing who is doing what when to produce a useful end result. The goal is to eliminate anything that has the potential to compromise the effectiveness or use of the EVMS.
An option to quickly produce an EVM system description is to license the use of H&A's Z-Best Company EVMS Model System Description.
What are the Benefits to Using H&A to Assist in the System Design and Documentation Process?
Reduces the time required to produce the needed documentation
Increases confidence in the system design to provide timely, reliable, and actionable information for management visibility and control
Ensures an effective EVMS is in place and it is actively used to manage projects from start to finish
Several Features of EVMS Design and Documentation:
System complies with the 32 guidelines in the EIA-748
EVMS reflects your business environment and needs
Complete, integrated EVM System that is ready to be implemented on one or more projects
Next Step: EVMS Implementation
Contact Us Today
Learn More About Consulting for EVMS Design and Documentation: (714) 685-1730
Back to Previous Page
Search All Articles & Media